The Indo American Foundation of Tampa bay is an established 501(c)(3) non profit organization to promote educational, cultural, networking and volunteering activities to our local community.The foundation's mission is to create an innovative, inclusive and integrative cultural society to enhance our heritage and promote awareness to others. We strongly believe that we must nurture the current and upcoming generations with a strong cultural value so they will thrive and continue to become successful leaders in today's society.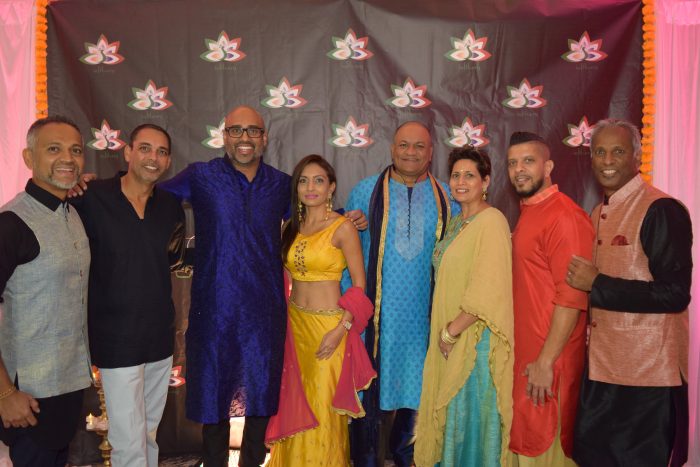 From left to right:

Kal Patel President; Pareh Shukla, Treasurer; Vaishali (Val) Patel, Raj Patel Secretary; Sinal Patel; Devan A. Patel Executive Board Member, Bharat Patel; Ketan Patel
Dr. Devan A. Patel serves on the Board of the Indo American Foundation of Tampa Bay. A strong believer in the importance of promoting educational, cultural and volunteer opportunities for the local Indo American community and their kids. Devan has taken an active roll in the organization and works to create a more innovative, inclusive and integrative Tampa Bay region. Devan's involvement on the Board has provided the opportunity for him to work closely
with GiGI's Playhouse Tampa (https://gigisplayhouse.org/tampa/) a Down Syndrome achievement center and A Kids Place Tampa (https://akidsplacetb.org/ ) and support their mission of finding loving homes for children in the foster care system.
When not involved with IAFTB, Devan spends his time using his knowledge and training fromhis Doctor of Pharmacy degree as an industry leader in Condition Targeted Nutraceuticals and in the development of unique dietary supplements. The supplements combine research-supported, naturally healing ingredients with best-in-class pharmaceutical grade standards to help his customers experience reduced side effects and support faster healing.
Devan also provides innovative boutique solutions for the medical and pharmacy industries as Chief Executive Officer of Medizenx. This work has led Devan to hold multiple registered trademarks, a patented device and patent pending formulations within the healthcare field.
Devan has been honored to be a Schering Plough Scholar, winner of the Pfizer Outstanding Leadership Award, Fellow of the American College of Apothecaries, and Adjunct Clinical Pharmacy Professor at Florida A&M University.
In his free time, Devan enjoys sports, getting outdoors, and spending time making a difference in his community. He lives his dream life in beautiful Tampa, Fla., with his amazing wife and beautiful daughters.
Vaishali Patel serves as a committee member for the Indo American Foundation of Tampa Bay. She has lived in the Tampa Bay area since 1981. Moving to Florida, at a young age, her parents were pioneers in helping grow and give to the Tampa Bay Indian community, and Vaishali is doing to same in following her parents footsteps where she is totally committed to giving back to the community. While at the same time help instill the ethics and culture to the young generation. Over the years, she has been part of various non-profit organizations' like GSTB, Indiafest, BAPS, SIA, etc.
Vaishali Patel is also the Co-Founder and President of Medenet, Inc, a Physicians Revenue Cycle Management Company. She started the company in 1991, from servicing a one specialty provider practice to know servicing various specialties and several hundred providers. She was a pioneer in developing an in-house propriety practice management software in 2002, which was one of the few web based solutions available in the market for a small practice with robust data mining tools to improve the revenue cycle management and processes of a practice. The company has developed a scalable model of delivery to accommodate a multitude of physician practice size and specialties' and thrives on delivering a personalized custom service to accommodate every need of the practice. She also is part of various professional organizations like AAPC, MGMA, HBMA, Harris Caretracker, Optum Link as a volunteer committee member to help in various areas.
Vaishali has been honored as Business Woman of the Year by Indo-US Chamber of Commerce, won HBMA Go Getter Award and Optum Caretracker Meaningful Use Consultants of the Year
In her free time, she loves spending time with her Husband and Son, watching sports, enjoying the outdoors and traveling around the world.
Kalpesh (Kal) Patel serves on the board of the Indo American Foundation of Tampa Bay. Kal is very instrumental in organizing each of the many events that the foundation takes on every year. His commitment to making each event memorable, shows that he is committed to this foundations overall goal in bringing people together to benefit our younger generation, especiallythe under privilege kids.
Kal and the other members of the board started this foundation to promote educational, cultural and the importance of giving back to the community. With the emphasis, on teaching our kids the value of the Indian culture and its ethical culture.
When not involved with the foundation, Kal spends his time on overseeing the construction of the Pura Vida condominium project on Clearwater Beach. He networks with other professionals on this project, whereby learning new and alternative methods to the building trade. From architects to the foundation company, there is always something new to be learned every day, no matter what day to day activities we endeavor. This is the 3rd project that Kal has been involved in, on Clearwater Beach.
Among his other daily work load, Kal also works at Medenet Inc. overseeing the daily financial operations of the company.
Kal also contributes his time to his son's local soccer team. He serves as a coach for the U13 FC Rangers Newcastle competitive level team. He has been coaching for FC Rangers for the past 4 years, and his love of the sport has instilled his son and players to become a better soccer player, on and off the field.
In his free time, Kal enjoys spending time with his wife and son, watching and attending sports events, cooking for friends and family, traveling and enjoying the outdoors.