This is a Free fun family event that will involve our kids volunteering and engaging in fun social activities with foster children from A Kid's Place. We are super proud to partner with them and provide these kids with new school supplies, book bags, clothing and financial support these wonderful children. If you would like to donate the day of the event, please visit iaftb.org for a list of supplies the foster home needs.
A Kids Place is a unique local 501(3)(c) nonprofit foster care facility, providing a loving home for abused, neglected, or abandoned children. They have a 60-bed residential home that has touched the lives of over 1200 children requiring foster care. www.akidsplacetb.org
RSVP by Evite if received or email [email protected].
Information
Saturday, August 11th 2018
Lettuce Lake Park (Shelter #2)
6920 E Fletcher Ave, Tampa Fl, 33637
10AM – 1PM
Download the flyer below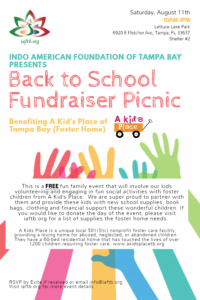 Save the date, August 10th, 2019. For more info please contact: Kal (813) 368-7389 or email
[email protected]